Edible oils refining by hydrodynamic cavitation
ROTOCAV cavitator is a patented technology developed by E-PIC S.r.l., a new revolutionary technology for edible oils processing. ROTOCAV can be successfully used for degumming, neutralization and bleaching of all edible oils.
Why using the ROTOCAV cavitator for edible oils processing as a process intensification technique?
The ROTOCAV cavitator is able to vigorously mix all the reagents with the edible oil, thanks to the generation of very intensive cavitation effects and extremely high shear forces.
ROTOCAV generates very fine emulsions, increasing the surface area between the different phases and promoting chemical reactions. ROTOCAV ensures intimate contact between the oil and the reagents (phosphoric acid, water or caustic soda), with a lower consumption of these additives, resulting in a more effective degumming and neutralization reactions. Similarly, a suspension treated by a ROTOCAV hydrodynamic cavitator is subjected to the destruction of molecular agglomerates; ROTOCAV is able to rapidly and effectively disperse clay or diatomaceous earth throughout the oil during the bleaching process.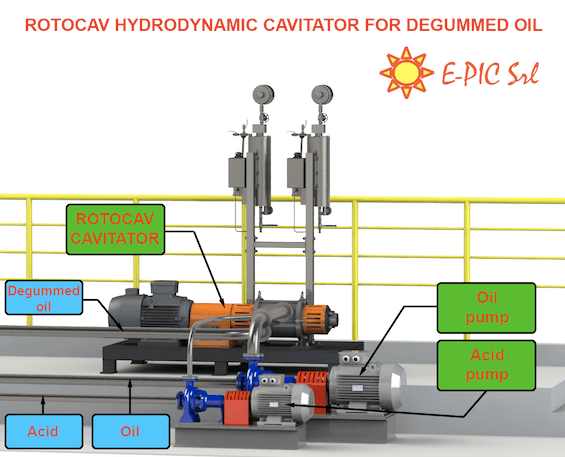 ROTOCAV hydrodynamic cavitator: scheme for edible oils degumming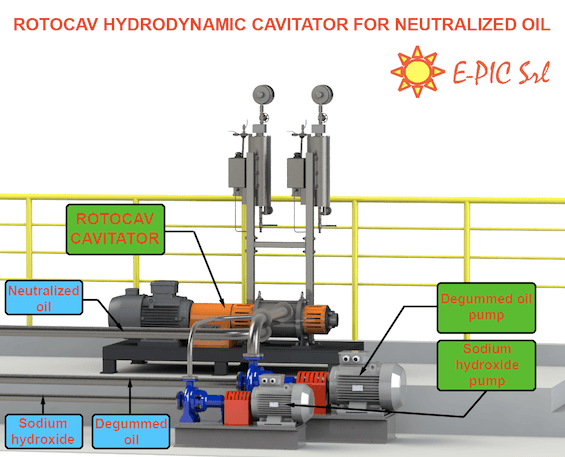 ROTOCAV hydrodynamic cavitator: scheme for edible oils neutralization
Which advantages I can achieve by using a ROTOCAV hydrodynamic cavitator in an edible oils plant?
ROTOCAV cavitator can be installed in existing oil refining facilities to improve the versatility of the plant, reaction yields and product quality will be better compared to the traditional process, making the processes more sustainable (lower consumption of additives and shorter processing time).
CONTACT US for more information.