Hydrodynamic cavitation in the food industry
Hydrodynamic cavitation can be successfully applied for the food industry: mixing, low pressure homogenization, dispersion and solubilization of solids into liquids.
Which are the advantages I can achieve if I install the ROTOCAV hydrodynamic cavitator in a food plant?
Main advantages of the ROTOCAV hydrodynamic cavitator are:
Overall efficiency improvement (time, operating and capital costs)
Space requirements and footprinting minimization
Product quality and yield improvement
Low power mixing consumption
Downtime minimization
In which food applications can I use the ROTOCAV hydrodynamic cavitator?
Mixing
ROTOCAV hydrodynamic cavitator can be successfully applied for mixing:
Solids in liquid: a controlled particle size reduction due to disgragation occurs during the treatment, increasing solids solubilization or dispersion in the liquid medium and promoting the generation of uniform and homogeneous suspensions or dispersions
Liquid in liquid (also with different viscosities)
gas in liquid: dispersion of microbubbles of N2 and CO2 in beer or beverages (to enhance taste and texture of some mousse souse and yoghurt and/or to increase product shelf life)


Examples of food products treated with the ROTOCAV hydrodynamic cavitator
ROTOCAV brochure for mixing processes: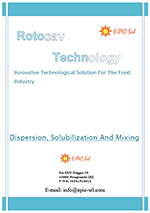 Homogenization
ROTOCAV hydrodynamic cavitator can be efficiently used as a low pressure homogenizer: read the scientific paper Treatment of fresh milk with ROTOCAV hydrodynamic cavitator about experimental results obtained with fresh milk and hydrodynamic and acoustic cavitation treatments. The system is able to create stable emulsions (with a uniform distribution of droplets size). It is also possible to modulate the droplets size by adjusting the cavitation intensity and the rotor speed.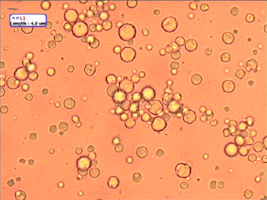 Fresh milk after hydrodynamic cavitation treatment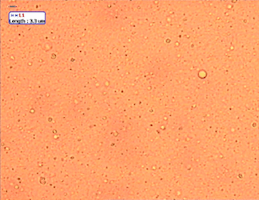 ROTOCAV brochure for homogenization of products: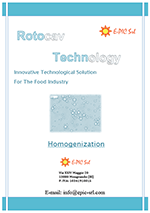 Hydration of gums/gels and thickening powders

Generation of homogeneous dispersions of powders into liquids and solid phase disintegration happen during the cavitational treatment: the product is subjected to cavitational phenomena and intense shear, it does not agglomerate and the resulting gum is fully hydrated, with rapid mixing time.
CONTACT US for more information.